Hours & Reservations
OPEN DAILY
Monday -Thursday from 2 pm-11 pm
Friday 2 pm- 1 am
Saturday 11 am-1 am
Sunday 11 am- 8 pm
Times are subject to change.
Reservations are required
Masks are required to enter the building and in all public spaces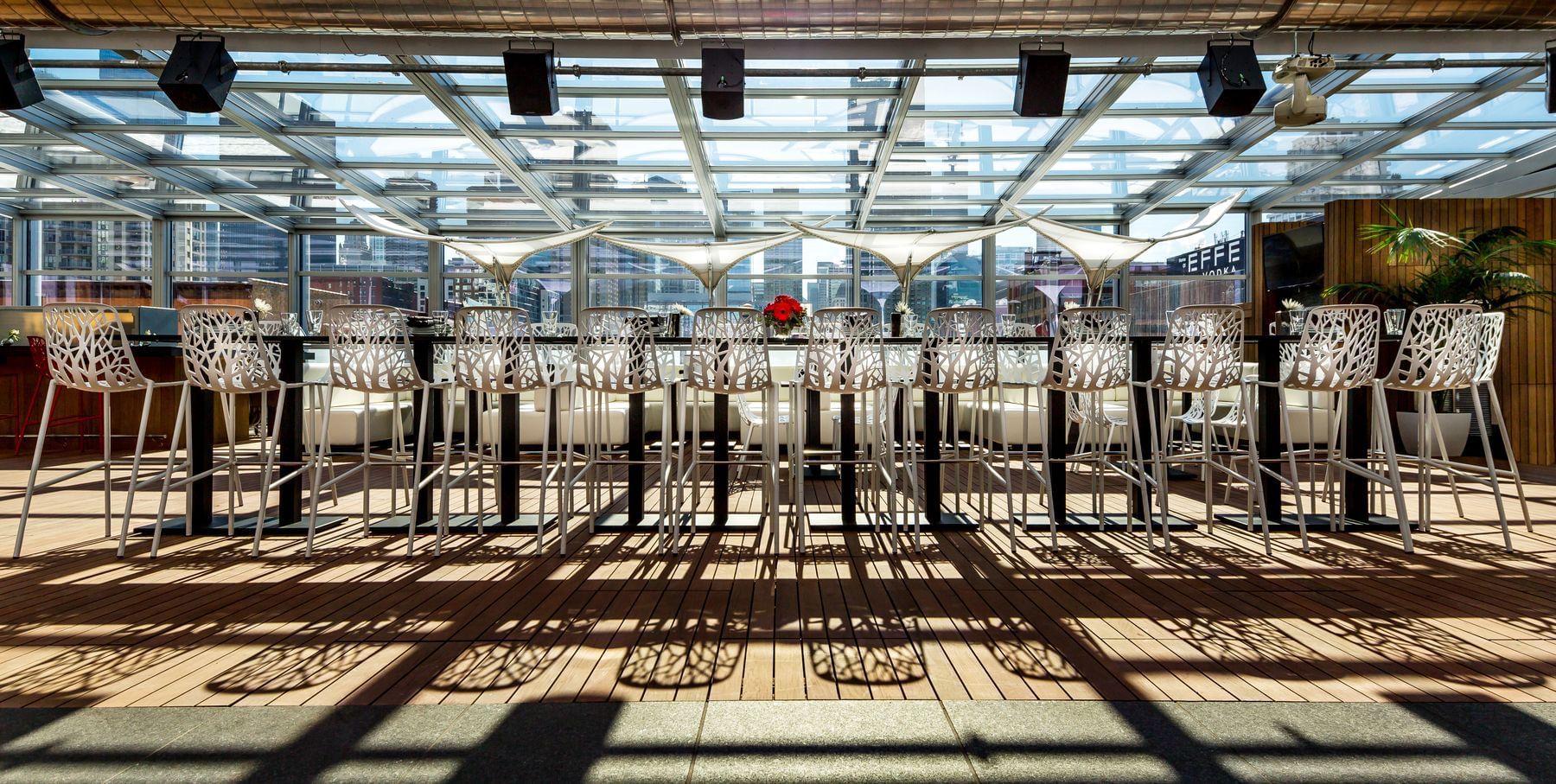 A HIGH ENERGY ADULT ROOFTOP BAR & LOUNGE
---
From the 4th floor at the epicenter of River North you find I|O Godfrey, a roofscape. Basking in the sunlight throughout the day and as late afternoon yields to evening, uninterrupted views of the southern Chicago skyline radiate to life setting a brilliant backdrop.
I|O encompasses approximately 15,000 square feet of indoor and outdoor space, with 10,000 square feet of lounge and event space available year-long named for its captivating Indoor/Outdoor ambiance.
Among the panoramic skyline views include a fire pit, shimmering water elements, a video wall, retractable roof, and more. I|O has more space and unique amenities to offer than any venue in the city.
Get started at the indoor bar with plush banquettes and a VIP area. Breeze through the sliding glass wall and you'll find yourself sipping drinks at the outdoor bar during the day, after work, at night, or on weekends in front of the commanding views of Chicago.
Experience I|O, where you can enjoy the day and revel in the night.
CLICK HERE for parties of 9-25
BOOK AN EVENT (Groups of 26 -700)
---
Excite and inspire your guests with an event of modern style and an energy all its own. Host a glamorous cocktail party with panoramic views of the Chicago skyline for your next corporate function or introduce your colleagues to the beautiful garden oasis out in Portico, our all outdoor space. The VIP Room offers the perfect space for a board meeting or breakouts during the day. Whether you're planning a small executive retreat for 10, a training seminar for 60, or a reception for 700 guests, discover the chic and sophisticated alternative for your next event.
Contact us